Our People
Wrecking Ball Demolition was established in 1998 by members of the longstanding Newland Construction family. It was born out of a need to provide quality demolition work in the Puget Sound region. In 2005 Sam Newland took Wrecking Ball out from under the umbrella of Newland Construction and branched out on his own. The next nine years were spent developing a solid client base and an outstanding team to support them. 2014 saw the advent of "Wrecking Ball 2.0" which added the comprehensive in-house training and safety program, and created the new company slogan "Cleaner. Safer. Faster." Our team is dedicated to making sure that your project is completed effectively and efficiently. Because we come from a general contracting background we understand the ins and outs of daily management of a true construction project. We enlist the latest communication technology to stay on top of your project and its successful completion.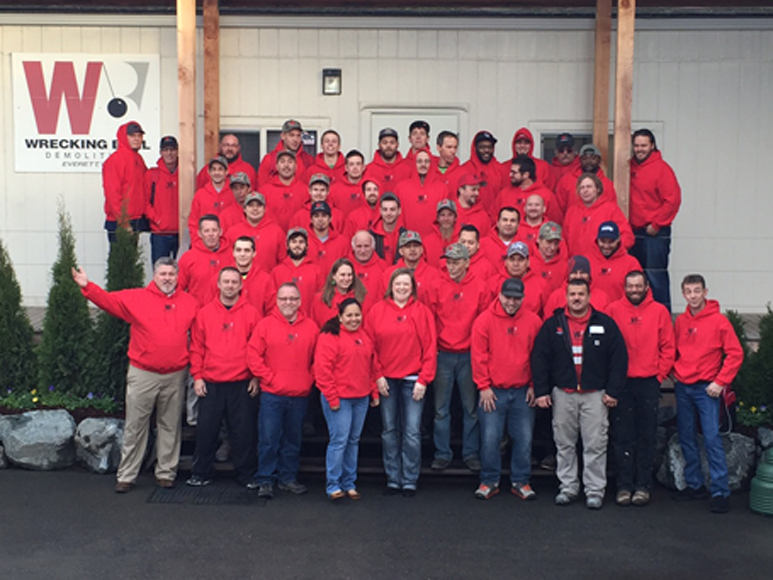 What Our Customers Are Saying:
"I wanted to just send you a note and thank you for the great work on our remodel recently.  We really appreciate the work you did.  Everyone is so happy with the remodel." Shelli Kind, Executive Director Puget Sound, American Heart Association
"...great team you have here. (BTW, the owner and our team, is very impressed with the safety, quality, protection of existing, and production that WB has provided!)." Blaze Pattison, SeaBay Building Group, LLC
"As usual you guys kicked a**" Chad Tonge, Swinerton Builders
"IBEX Construction values important subcontractor relationships such as the one we enjoyed with Wrecking Ball and we look forward to working with your company in the future." Jeff Olson, IBEX Construction
"Their pricing is fair, their service is excellent and their crews are always professional in all aspect of their work. Their safety record with us is impeccable as well is their communication and scheduling." Michael Pattison, Pattison General Contractor
"I just wanted to pass on to you and your crew what a great job you all did at the Shear Project. Our clients, who live next door have reached out to me several times to compliment your leads and crew on their professionalism, site care and clean up. I couldn't have asked for better foremen than Josh and Byork, they were both very informative, accessible and very helpful with the demo process. Once again it was a pleasure working with all of you and I look forward to working with you on any future project." Richard Huerta, Crescent Builds
"As always I like to let staff know of the working relationships and quality of work completed by our subcontractors.
Wrecking Ball had two phase of work in their scope, asbestos abatement and Demo of structures.
Asbestos abatement endured some additional work as we found more asbestos the original report.
Work was completed in an orderly fashion, crew was well versed and completed tasks, keeping us informed of completion dates and removal status. The lead man did an excellent job.
The demo work was completed in an orderly fashion, Wrecking Ball also allowed us the flexibility of providing City of Redmond Fire Department the opportunity to utilize the structure for fire drills allowing Redmond FD, Kirkland FD, Bellevue FD and Woodinville FD to train without interrupting our scopes of work or schedule. Greg was our foreman and performed their work safely and efficiently hutting our target date while also incurring additional work at the old church location as well as capping utilities. Communication with on site and office staff was excellent. COR was very satisfied with traffic/dust control during duration of scope. Greg did an excellent job keeping us in the loop and performing task.
Overall, very satisfied with workmanship and cooperation throughout the scope of work, would not hesitate recommending Wrecking Ball in the future for additional work!" Pat McCabe, Compass General Contractor
Current Contractors That We Work With: 
Andersen Construction Company
Edifice Construction Company
Express Construction Company
Forma Construction Company
HST Construction
JE Cumming Corporation
Swinerton Builders
Venture General Contracting LLC
Schuchart Corporation
Gaffney Construction
Market General Contractors
Horizon Retail
Weitz Construction
Gray
Property Owners That We Work With: 
CBRE
Unico Properties
City of Everett
Snohomish County PUD
Providence Health & Services